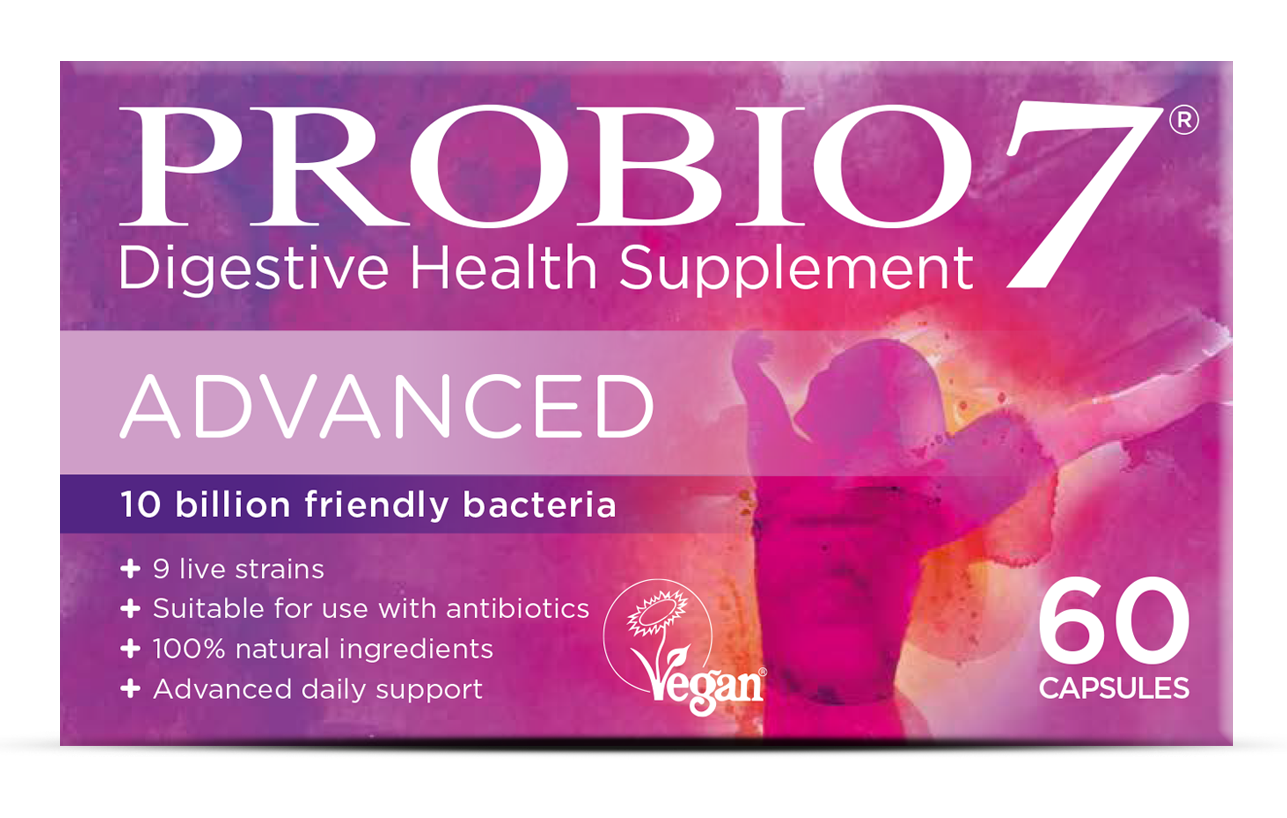 Probio7 Advanced is a high strength digestive health supplement that is formulated for daily use for adults. It helps promote and maintain a healthy balance in the gut flora, vital for immune and digestive health. There are 9 live strains of extensively researched "good" bacteria, as well as two types of natural fibre which feed and encourage friendly bacteria in your digestive system. Each capsule has 10 billion friendly bacteria which are clinically proven to be safe and are naturally present in the human intestine.

Why do I need Probio7 Advanced?
Research has shown that consuming live cultures is an effective way of maintaining a diverse gut flora. An imbalance in the delicate ecosystem can be caused by a number of factors such as:

A change in diet
Drinking two or more alcoholic beverages per day
New medications such as antibiotics
Increased levels of stress and/or anxiety


An imbalance of bacteria in the digestive tract can contribute to some digestive symptoms and other conditions like:


Gut discomfort
Gut inconvenience
Bloating intolerances
Skin breakouts
Yeast overgrowth
Take 1 to 2 capsules daily, preferably with a meal or a snack or with water, juice or milk.

Chicory Inulin Fibre (Fructo-Oligo-Saccharide), Soy Fibre, Hydroxy Propyl Methyl Cellulose (Vegetable Cellulose Capsule Shell), Bacteria Complex*, Saccharomyces Boulardii (yeast), Bulking Agent (Maltodextrin), Anti-caking Agent (Magnesium Stearate), Colour (Titanium Dioxide). *Bacteria Complex contains: L. Casei, L. Rhamnosus, L. Acidophilus, Streptococcus Thermophilus, L. Plantarum, B. Breve, B. Longum & B. Bifidum. (L.= Lactobacillus & B.= Bifidobacterium)