Probio7 Intiflor
Supporting female intimate health, with 2 strains proven for women.
Capsules
Dairy Free
Gluten Free
GMO Free

No Need to Refrigerate
No Artificial Flavours or Preservatives
It's worth trying this product as I feel that it helps and is more than just cranberry alone. Good bacteria seem to be getting recognised so I'd give this a go to anyone considering it.
The urinary and vaginal microbiome is a delicate ecosystem. It is characterised by a low species diversity, a low vaginal pH and dominant in Lactobacillus species. 
This ecosystem can become disturbed by diet, poor hygiene, sexual intercourse, antibiotics and stress.  
Probio7 Intiflor is a 15-day programme, perfect for those who are looking to support their urinary and vaginal microbiome.
For best results, we recommend taking Probio7 Intilfor continuously for 15 days and continue for as long as needed. 

Take one capsule each morning with breakfast, the capsules can either be swallowed whole or pulled apart and mixed with cold food or drink.

 

Suitable for those 12 years+.

 

What's in it?
2 strains proven for women
Lactobacillus plantarum CECT 8675 and Lactobacillus plantarum CECT 8677 are 2 strains of friendly bacteria that have been clinically researched and proven for women to support the vaginal and urinary microbiome
1 billion live bacteria
Each capsule contains 1 billion live bacteria that are able to reach the vagina and urinary tract alive
Proanthocyanins (PAC)
11 cranberries per capsule providing the optimum amount of the active ingredient PAC per capsule without the added sugar
Vitamin C
Added vitamin C to help boost and maintain normal energy levels and contribute to the normal functioning of the immune system
Full ingredients
Each capsule of Probio7 Intiflor contains: Dried Cranberry Extract, Microencapsulated Lactobacillus plantarum CECT 8675 and CECT 8677 (Coconut Oil, Bovine Gelatin, Glycerin, Sunflower Lecithin, Pectin and Carmine), Ascorbic Acid (vitamin C), Anti-caking Agent (Magnesium Stearate) and Cellulose Microcrystalline, Hydroxypropyl methyl cellulose, Colour (Titanium dioxide)
Allergy Advice:
See ingredients listed above in BOLD.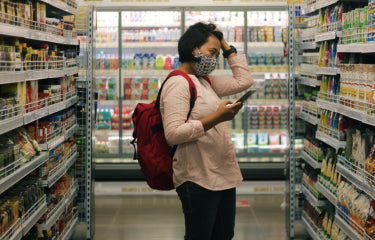 Can't find what you're looking for?
Take our free online product redommendation quiz. We'll ask you some questions about your gut health and goals to recommend a product suited to you.